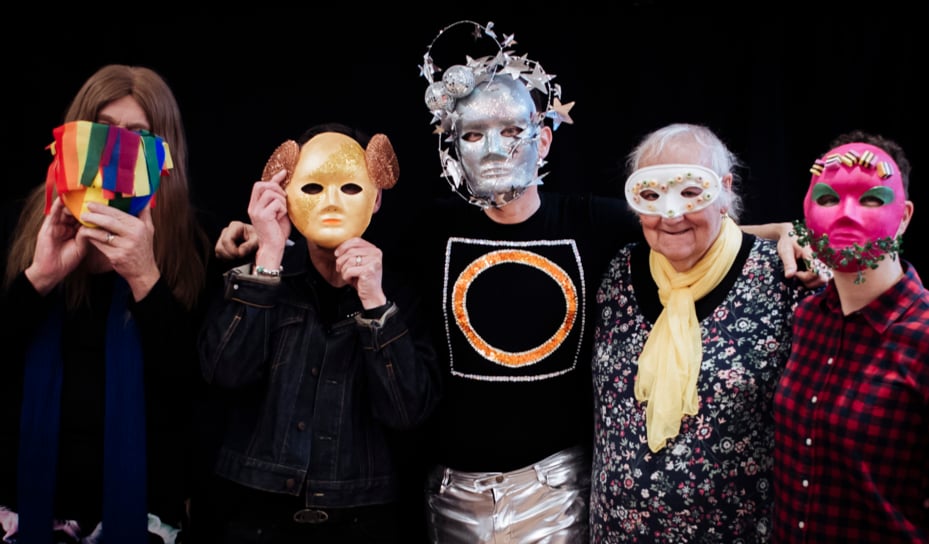 This project focuses on building Pride in our LGBTIQ identities. It involves workshops where Pride is discussed and Pride masks are made. The first workshops focused on gay and bisexual men, to affirm homosexuality as an equal way of being and to raise awareness of the Expungement Scheme. Photographs of men and their masks were exhibited for Midsumma in 2018 (see below) and we received requests to expand the project to include all LGBTIQ community members. We also received requests for a workshop that paid tribute to the survivors of the Tasty night club raid.
We are grateful to Midsumma Festival for supporting the Exhibition and to the City of Melbourne who provided a Community Grant to support four workshops in 2018.
The Apology – healing stigma
The project began with conversations about the Expungement Scheme in Victoria. The Scheme offers people the opportunity to have historical convictions for consensual homosexual sex overturned. We heard that men who had been through Expungement reported it was cathartic – but few men have participated. In conversations about why this was the case were we told this:
the historic oppression of gay and bisexual men by law and society sought to create a sense of shame around homosexuality. In 1981 this oppression shifted in Victoria when legislative reforms saw consensual homosexual sex decriminalized; and then again in 2015 when the State Government implemented a scheme to expunge historical convictions for homosexual sex. While legislative reform is essential there is also a need to heal the stigma, hurt, shame and losses these laws created.
A process of healing began in 2016, when Premier Daniel Andrews made an apology in State Parliament for past injustices (read the apology here). While these reforms are significant there is still a sense of stigma and shame around LGBTIQ identities. The Never a Crime project aims to address that stigma by building Pride.
These portraits of LGBTIQ people their Pride masks were taken by Lisa White, The Social Photographer. You can also click on the link here to read the stories workshop participants shared.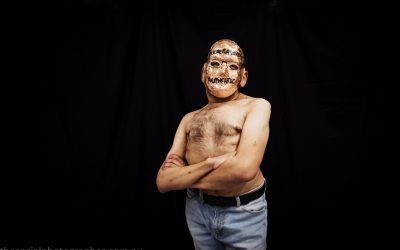 To me, pride is when you can truly be yourself. It means to be the real person that you are and not worry about what other people think. It is about letting your guard down and being happy in your own skin. I have had a very mixed life as a gay man. I was accepted by...
Tribute to Tasty Raid Survivors
We also received requests for a workshop that paid tribute to the survivors of the Tasty night club raid. Police have apologised for the raid. A workshop was facilitated as part of the Community Grant provided by the City of Melbourne. Workshop participants included Ron, a gay man who was at Tasty when it was raided. You can read Ron's story hereand the messages from other workshop participants are shared below.
Messages to men who were unjustly convicted
Workshop participants and those attending the Exhibition were invited to send a message of support to men who were unjustly convicted. The responses are heart warming and we display them here in the hope that they will help to send a message of support.
The Pride workshops are a lot of fun – and a powerful process. Participants tell us that working on their mask and reflecting on Pride is quite uplifting and is an important process. Check out some of our workshop photos by Lisa White below.
David Morrison: I like being gay
In one of our workshops, 86 year old David Morrison shared his historical experiences of homophobia and pride and concludes: I am happy now – I like being gay. In this short film David describes the mask he made.
We were proud to partner with 
Midsumma Festival
and the 
Abbotsford Convent Gallery
 in January 2017, to present an exhibition of photographs of men and their masks by Lisa White, The Social Photographer. View details of the exhibition 
here
.
As part of the launch exhibition we invited men who participated in the Pride Workshops to reflect on the project, the exhibition, their masks and Pride. Their responses are very touching and can be viewed in the YouTube video below.
In May 2015 Premier Daniel Andrews issued a formal apology in State Parliament to gay men for past injustices – making Victoria the first state to apologise. You can view the apology below – courtesy of ABC News.
Below are a series of photos taken from the apology in State Parliament, which was open to the general public, and an extract from the apology.
In September 2015 a new scheme was implemented in Victoria to expunge historical convictions for homosexual activity that would not be a criminal offence today. Under the scheme, an individual (or the appropriate representative of a deceased person) can make a confidential application to the Secretary of the Department of Justice and Regulation to have their conviction or finding of guilt for an historical homosexual offence expunged. This application can be made free of charge. For more information about the Scheme go to the 
Department of Justice and Regulations webpage
.
Human Rights Law Centre – here to help
The Human Rights Law Centre is a wonderful organisation that has set up an Expungement Legal Service to help people who work through the process of Expungement. If you have or know someone who has a historic finding of guilt or conviction for homosexual activity, the Expungement Legal Service can help: advise you on the expungement scheme (including if you are eligible to apply); assist you to prepare your application and relevant paperwork; and support you through the expungement process.
The Expungement Legal Service provides free and confidential legal help to anyone affected by these laws in any state or territory in Australia. The team is staffed by LGBTIQ identifying lawyers and includes volunteer lawyer Jamie Gardiner who has personal experience of the climate and police attitudes before the old laws were repealed. For more information go to the HRLC webpage on Expungement by clicking here.
There are a number of wonderful support services out there to help if you need someone to talk to:
If you would like more information about this project please contact the project coordinator Dr Catherine Barrett by hone: 0429 582 237 or email at: director@celebrateageing.com
A Barrett-White collaboration
We are grateful to those working in the Media who have shared information about the project – your stories help us to challenge the shame around homosexuality and bisexuality.