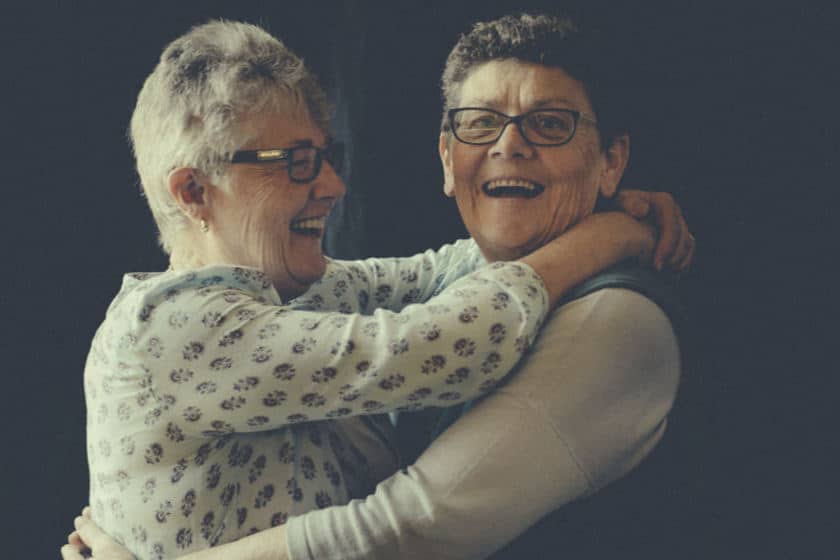 100 Years of Love celebrates the lives and loves of three lesbian couples, living in Ballarat, who have collectively been together for almost 100 years. The women have much to teach us about love. They have lived through times when their sexuality was not respected and their relationships have never been publicly or formally recognised or celebrated.
This project is about same sex relationships, ageing, family, friends and community. It acknowledges history, lesbophobia and the journey to find a place where love grows.
A very big thankyou to the City of Ballarat for supporting this project – we love supportive Local Goverment, particularly in rural and regional areas and we love that Ballarat was so supportive of Marriage Equality. 
Sandy Anderson & Helen Carrucan
Edie Mayhew and Anne Tudor
When we got together 33 years ago we kept it pretty quiet. It was a very different world back then. You didn't tell people you were lesbian. We were in love – but we've never formally celebrated our love with family and friends because we didn't feel it was okay to do so. Now that time is running out for us we want to celebrate with the people we love.
We celebrated our relationship in a recommitment ceremony with family and friends at a private event in 2017. In the build up to the ceremony we invited family and friends to help celebrate our relationship by sharing a story about our life and relationship. The responses blew us away. Thank you to everyone who shared their messages of support. The City of Ballarat engaged photographer Jeremy Bannister to take photographs at our ceremony. The photos are beautiful and we want to share some with you here.
Our recommitment ceremony was  filmed by Andy Ferguson as part of Victorian Senior's Festival. The film is moving and we shared it with family and friends and the Ballarat community at a screening at MADE in Ballarat. Feedback on the film has been very powerful – see people's responses below. So we have submitted the film to the Australian Human Rights Arts and Film festival and the Queer Film Festival in San Fransisco. Once we have an outcome of these submission we will be able to share the film with you here on the webpage. The film is now part of our annual series called: Pulse of My Heart.
Two months after our recommitment ceremony, there was a postal vote in Australia on Marriage Equality – and Australia said YES. From January 9th 2018 same sex couples were able to marry. We decided to marry.