We didn't think of it as abuse or discrimination. It was just the way things were. We thought we were in the wrong, so we just had to shut up and live silently (LGBTI Elder).
About the Tango Project
We want to improve responses to the difficulties (including abuse and discrimination) LGBTI elders face on the basis of their LGBTI identities. A significant number of LGBTI elders who experience difficulties don't access advocacy or complaints services (see: LGBTIsubmissionAlicesGarage). This may be due to a number of factors, including LGBTI elders not having a sense of entitlement, not feeling safe accessing Government funded advocacy services, or not wanting to further damage relationships with family members or service providers they are dependent upon. The quote above from an LGBTI Elder provides insight into how abuse and discrimination was conceptualised – the onus of responsibility was on LGBTI Elder to conform to social norms. They had no LGBTI rights and few had a sense of entitlements.
To address this issue, the Tango Project is providing LGBTI elders in Victoria with an Independent Third Party (Dr Catherine Barrett) to document and address the difficulties encountered. Catherine is documenting difficulties in ways that protect the identities of LGBTI elders and is providing information to LGBTI elders on services available.
An important part of the Project is understanding patterns of difficulty and empowering LGBTI elders to mediate outcomes for themselves. At the review of the first year of the project, LGBTI Elders identified the need for strategies to:
Mediate with family members in ways that preserved relationships
Build better understanding between LGBTI subgroups
Provide health and human services with feedback about service experiences.
Strategies are currently being clarified and will be outlined on this page. The Tango Project was launched in October 2016 and will continue until December 2018. The project team is led by Dr Catherine Barrett, Director of Alice's Garage and Ro Allen, Gender and Sexuality Commissioner for Victoria, in partnership with a group of LGBTI Elders (pictured above). A project advisory group includes a number of Victoria's Commissioners and Advocacy Groups.
Reporting a difficulty
The project focuses on difficulties (including abuse or discrimination) that occurred in 2017 and 2018 in Victoria – that were experienced by LGBTI people aged 65 years or more on the basis of their LGBTI identity. There are three alternatives to participate, all are confidential and anonymous:
Phone: call the Project Coordinator Dr Catherine Barrett on 0429 582 237 and have a confidential conversation
Hard copy survey: download a hard copy of the Survey2 and email it to: director@celebrateageing.com or post it to: Dr Catherine Barrett PO Box 1377 St Kilda South 3182
Online survey: fill out the online survey by clicking here.
Confidentiality
Any information you provide will be de-identified – please call us if you would like to talk to us about how we can de-identify your information.
Contact us
Project Coordinator, Dr Catherine Barrett
Email: director@celebrateageing.com
Phone: (03) 9534 0060
Post: Tango Project, PO Box 1377 St Kilda South 3182
Report on 2017
For World Elder Abuse Awareness Day 2017 we launched a report on the first year of the project. You can read the report by clicking the link here: TangoProjectReport.
LGBTI Elders Council
Twice a year LGBTI elders meet with Gender and Sexuality Commissioner Ro Allen to discuss the progress of the Tango Project and other matters. The group has become affectionately known as the Elders Council. If you are an LGBTI Elder (65+) and you live in Victoria you are welcome to join our next Council in November 2018.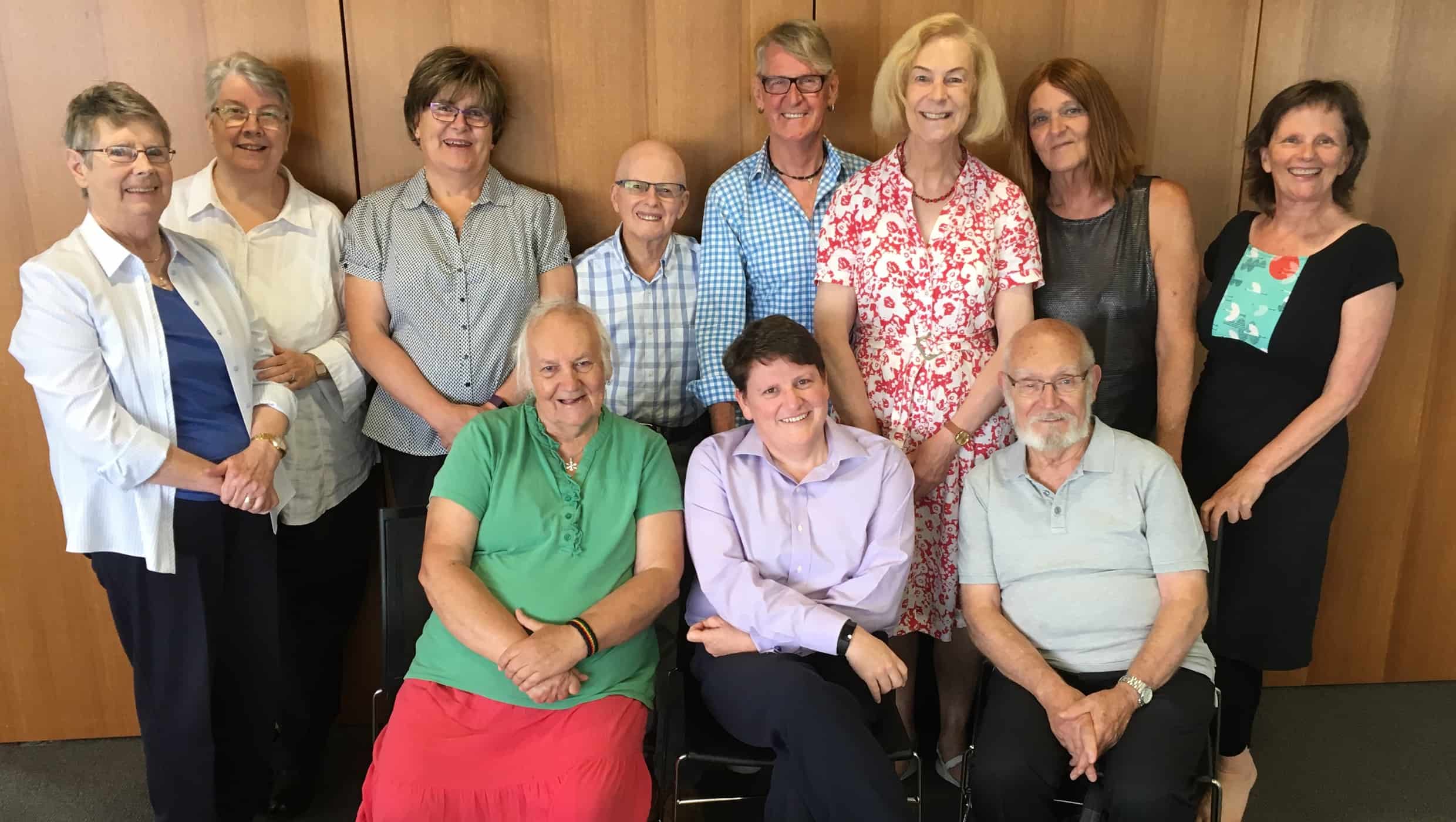 Counselling services
Switchboard provides a free, confidential and anonymous telephone counselling, referral and information service for LGBTI people and their supporters in Victoria. Phone: 1800 184 527 from 3:00pm to midnight seven days.Website: here
beyondblue: creates mentally healthy environments and supports people across Australia – whatever their age and wherever they live. beyondblue has a tailored approach for specific groups – including LGBTI people, and a 24 hour/7 days a week hotline: 1300 22 4636. Web: here
Legal and Advocacy Services
Whether or not you decide to share your story with the Tango Project team – there are a number of free and confidential legal and advocacy services in Victoria that want to hear from LGBTI elders. This photo below shows seven of Victoria's Commissioners preparing dance moves for the New Moves Event for Seniors Festival – they wanted to send a message of support to LGBTI Elders. You can click here to watch the short video we produced from the event.
The importance of the Commissioners reach out to LGBTI elders was highlighted at the ADA Conference in Brisbane in 2017. Brian Day OAM was introduced to Aged Care Complaints Commissioner Rae Lamb. Brian recognised Rae from the New Moves film; looked her in the eye and said: thanks for the dance.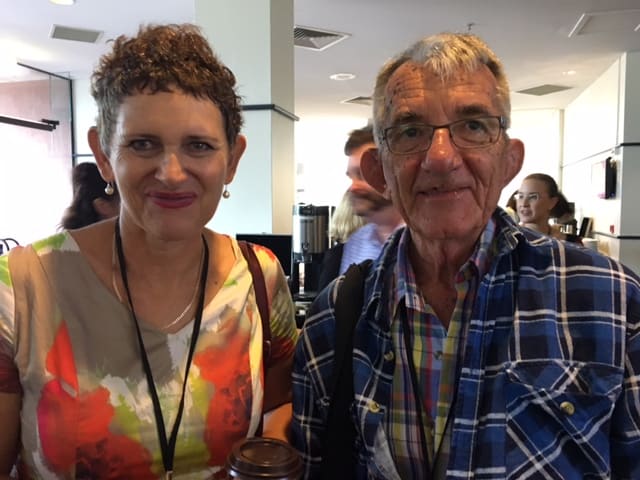 The following is a list of free and confidential complaint and advocacy services that you could consider accessing:
Victoria Legal Aid: Victoria Legal Aid (VLA) is an independent statutory body with a team of skilled lawyers who provide free and confidential advice and assistance to eligible people who have experienced discrimination. VLA can help you understand your rights, learn more about whether you can make a discrimination complaint, and help you take action. VLA is a safe and inclusive provider of legal services to the LGBTI communities. Phone: 1300 792 387. Website here.

Victorian Equal Opportunity and Human Rights Commission: The Commission is an independent statutory body with responsibilities under The Equal Opportunity Act, The Racial and Religious Tolerance Act and The Charter of Human Rights and Responsibilities Act. The Commission provides a dispute resolution service, information and education about equal opportunity, racial and religious vilification and the Charter of Human Rights and Responsibilities and education, training and consultancy services. Phone: 1300 292 153. Website here

The Disability Services Commissioner (DSC): is an independent oversight body resolving complaints about Victorian disability services and promoting the right of people with a disability to be free from abuse. DSC's complaints resolution process is independent, free and confidential. DSC works with people with a disability, families and guardians, and service providers to improve disability services. Phone: 1800 677 342. Web: here

Office of Public Advocate: The Office of Public Advocate (OPA) is an independent statutory body that safeguards the rights and interests of people with disability in Victoria. OPA's Advice Service provides information on the rights of people with disability, and matters that may affect people with disability, including: guardianship and administration; powers of attorney; consent to medical or dental treatment; and referral to OPA's Community Visitors Program. Phone: 1300 309 337. Website: here

Aged Care Complaints Commissioner: The Aged Care Complaints Commissioner provides a free service for anyone to raise their concerns about the quality of care or services being delivered to people receiving aged care services funded by the Australian Government. You can make a complaint online, over the phone or by post. Phone:1800 550 552. Web: here
Elder Rights Advocacy: Elder Rights Advocacy provides advice on the rights of aged care consumers including how to resolve problems that interfere with the care older people and their family members are entitled to. This includes helping to explain aged care services, negotiating with service providers, assisting with complaints, providing information and education to staff and management. Phone: 03 9602 3066 or 1800 700 600 (not mobiles).Website: here
Seniors Rights Victoria: Seniors Rights Victoria provides information, support, advice and education to help prevent elder abuse and safeguard the rights, dignity and independence of older people. Services include a Helpline, specialist legal services, short-term support and advocacy for individuals and community and professional education. Seniors Rights Victoria also provides leadership on policy and law reform and works with other organisations to raise awareness of elder abuse. Phone: 1300 368 821. Website: here
The Office of the Health Services Commissioner: The Office of the Health Services Commissioner receives complaints about health services and health privacy. The Commissioner can assist people make their concerns known to health service providers; protect people's right of access to their health information; and assist in the resolution of complaints involving health care consumers and providers of health services. Phone: 1300 582 113. Website: here
Mental Health Complaints Commissioner: The Mental Health Complaints Commissioner is an independent statutory body that deals with complaints about public mental health services in Victoria, including designated mental health services, mental health community support services, and NDIS funded mental health community support services. The Mental Health Complaints Commissioner works with consumers, families, carers and services to safeguard rights, resolve complaints, and improve services. Phone: 1800 246 054. Website: here
Building trust
Given the historical relationship between the government and LGBTI Elders there is a need to build trust. We need to demonstrate to LGBTI Elders that #equalityisnotnegotiable in Victoria. It is not sufficient to say this – it needs to be demonstrated. The Tango Project will seek opportunities to bring LGBTI Elders together with government representatives, and particularly with advocacy and complaints services in order to build trust. In this section of the page we will share the activities. Please also check out our Place page.
Encounters workshop (January 2018)
In January 2018 a workshop was held at the Better Together, Equality Project Conference – the workshop bought LGBTI Elders and Advocacy & Complaints Services together to exchange ideas about issues and services. LGBTI Elders invited services to participate in a pre-workshop audit where the Elders audited the webpages of services and provided a written report on LGBTI inclusivity. A short film from the workshop was produced to help spread the word that Advocacy & Complaints services are here to help.
High Tea with the Commissioner (March 2017)
As part of the Rural LGBTI Equality Roadshow we organised a morning tea between a group of lesbian Elders in Ballarat and Gender and Sexuality Commissioner Ro Allen (below right). Feedback from the lesbians who participated was that they were grateful that a government representative had taken the time to visit.
New Moves – Victorian Senior's Festival (21/10/16)
In October 2016 Alice's Garage and all the Queens Men hosted the New Moves Event for Victoria's Senior's Festival. The event attracted over 120 LGBTI Elders and their allies. There were also 8 Commissioners and Advocates who came to share their message of support. Momentum for change is building (photo: Bryony Jackson).