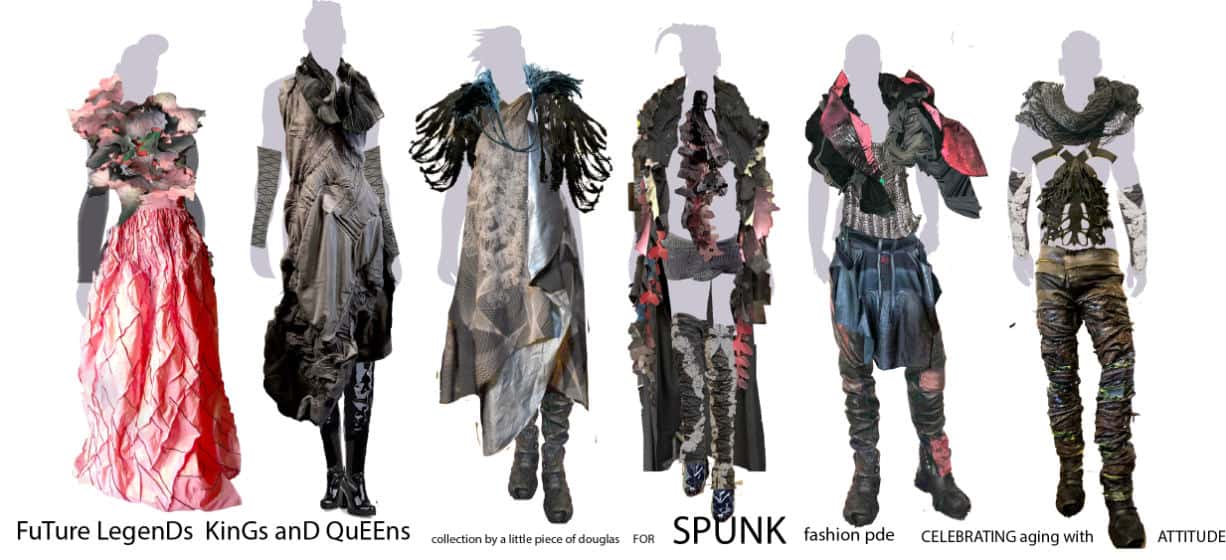 Runway6 is an exploration of LGBTI ageing and beauty. Older LGBTI people took to the catwalk, on Runway6, for a Fashion Parade called SPUNK, which was part of the Embolden2018 Festival. Older LGBTIQ people were dressed by artist Douglas McManus.
Collection by a Little Piece of Douglas
Douglas McManus is a Melbourne based artist who explores emerging high end technologies to create sculptural art works. Originally studying fine art printmaking, he began to include textiles as a medium early in his career to explore concepts around gender and physical and emotional change in the human body. McManus has emerged as a major contributor to the culture of textiles in Australia through his work as a practitioner, curator, researcher and educator.
Key processes in his award winning work include laser engraving, 3D printing and sound activated lighting. The opportunity to create a partnership with TROTEC and have access to a laser cutter in his studio has allowed him to further experiment and push the boundaries of laser technology.
He has exhibited in significant exhibitions such as Melbourne Now at the NGV, and MONA Dark Mofo Festival. McManus is represented in major Australian museums including The Powerhouse, Sydney, The National Gallery of Victoria, Melbourne and The Queen Victoria Museum, Launceston.
At the Embolden2018 Festival, Douglas styled older LGBTI people for a Fashion Parade called SPUNK. Spunk is an attitude – it is about courage, determination, pluck, spirit, strength, fortitude, guts and grit. In Australia, 'a spunk' is also a person who is sexually attractive.
The Fashion Parade challenged the ageist misconception that beauty is limited to youth. Beauty changes as we age – but is not less. The Fashion Parade showed how older LGBTI people have grace, style and a sense of play. It invited models to think about beauty is an attitude, to tell us what their cat walk attitude was and to think about taking their catwalk attitude into everyday life as a protective factor against ageism and LGBTIphobia. It's about not waiting for the world to be less ageist or LGBTIphobic – it's about living our best possible lives right now.
Five models participated in the runway, entitled F.L.U.I.D – Fashion Legends United in Disobedience – by the designer. The oldest model was 88. Thank you to Chris Franklin for the powerful video of Runway 6 and thank you to photographer Julian Meehan for the beautiful photographs.
The very talented Chris Franklin provided us with two films for us to choose from for Runway6. The film reviewers were spilt on which they preferred, and Chris has very generously invited us to keep both.
The models were asked: if beautiful was a cat walk attitude that could be taken to everyday life as a protective factor against ageism and LGBTIphobia – how would you describe your attitude? Their responses are provided below – alongside powerful images provided by Douglas.
Before the Fashion Parade I looked on Pintrest at fashion pictures of male models to see how they stood and looked. On the Runway I was imagining I was out on a big open walkway and I was looking past the people at imaginary buildings and scenery. I felt I was in charge as it were. I didn't really know how I looked, but I felt completely at home with what I was wearing. I had accepted to wear what was presented to me, I had agreed to wear whatever was put on my shoulders. The outfit didn't line up with any of the fashion wares I had in my mind. I didn't know what to make of that. I agreed to be part of it because I support the whole idea and raison d'etre to assist LGBTI Elders to be part of the deal. I stayed in the present in the moment, imagining myself there and being successful – and I acted that out and it just happened the way I imagined it would. I am fit, I am well and I am strong. I see that NOW, not tomorrow, now. Its about imagining how I wanted it to be.
When I got onto the Runways I knew what I was going to do. I was psyching myself up to be the boss of the whole bloody lot. I seemed to have the most elaborate costume – I thought I could be anything. When I put the costume on my thoughts changed. The other models and I played it up … I was the King. Thats what I thought I was. That was a bit of a change for me from being a Queen. When you do something like that you become the costume – I did what I thought the costume wanted me to do. I was the Boss. Someone said I looked like I was going to jump on my horse and gallop off somewhere – well thats what I was trying to portray. I'm here and I'm queer and I'm not going anywhere. My attitude was that I would be as good as I could be. I think confidence in myself and confidence in what I am doing is the attitude that is beautiful.
I am a proud Elder and I am owning this space right here, right now. I was out of my comfort zone, but I took two deep breathes and said: I'm owning this, I'm enjoying this. Then, when Bowie's Heroes started and I walked onto the Runway, the place erupted and nearly lifted the roof off the St Kilda Town Hall. It was more than appreciation – it was celebration, which was what Embolden was about. It was a new experience and I thrive on new experiences because they help me grow. I don't care what other people think anymore – I own my space. I've done the yards. I've earned the right to have my space.
It was the fun and joy of doing something completely unexpected! We are indoctrinated to be held in place by the expectations of others, and one of the joys of ageing is to abandon that, and not be overly concerned about what others are thinking. It was liberating to surprise myself – and I had confidence that the joy would carry the moment and would be reciprocated. It goes around.
Being the last model out I was empowered by the excitement that greeted the other models. The cacophony of applause elevated me as I soaked in the lyrics of 'We Can Be Heroes'. It hit me that we were being more – we were superheroes dressed in Douglas's bold and transgressive designs. Front of mind was doing justice to the clothes I was wearing, for they roared a challenge to conventional images of ageing. I wanted to possess that challenge, and to be as bold and brave as my garb. Walking out was electrifying, with a surge of power both defiant and demanding. As I moved along I defied the voice in my head telling stories about my physical image and owned my body as it is. No ifs, not buts, no maybes. That certainty gave me courage to confront the audience with a demand they pay attention – for this was what ageing could look like. Upfront, unhidden, and unashamed. When we came back out as a group there was a feeling that we'd pushed over a boundary on what is acceptable for us. The power of that has stayed with me, the shift in my sense of self from that night continues to have aftershocks that delight and encourage me for an emboldened future.
We are so grateful to Douglas for his generosity and for his art. As MC for a Fashion Parade called SPUNK I was delighted to be offered the opportunity to wear one of Douglas's outfits. I felt immediately surrounded by the love and support of LGBTI communities. Out of adversity this sense of common-unity – manifested in this beautiful outfit. Douglas you are amazing.