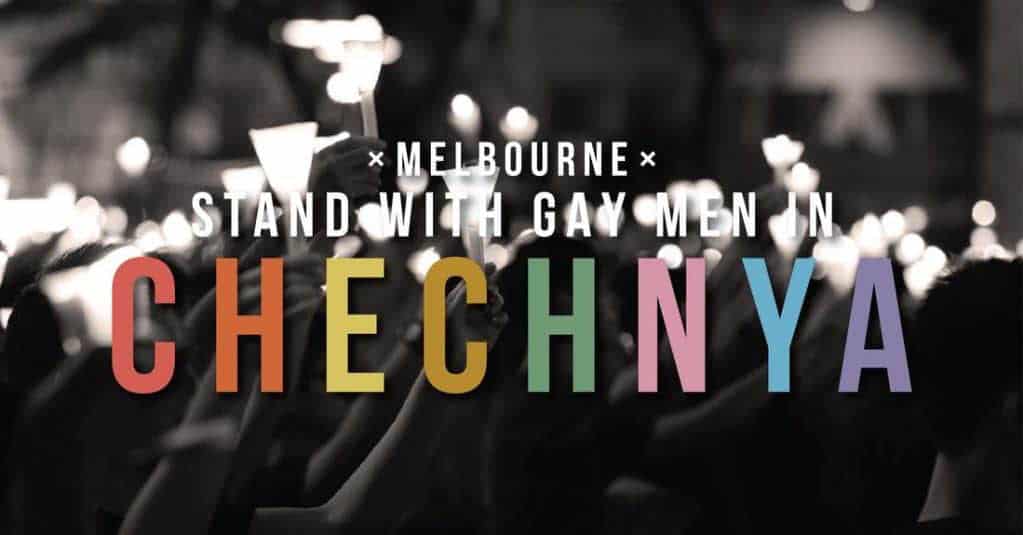 In May 2017 Amnesty International reported "over a hundred men suspected of being gay are being abducted, tortured and even killed in the southern Russian republic of Chechnya according to credible sources inside the country. The Chechen government won't admit that gay men even exist in Chechnya, let alone that they ordered what the police call 'preventive mopping up' of people they consider to be undesirable." LGBTI community members responded to the news with outrage and distress. There was agreement of the need to do something – but many felt powerless. Alice's Garage wanted to send a message of solidarity – to recognise our own LGBTI histories and relative privilege. And so the idea for a Vigil was formed.
In May 2017 Alice's Garage worked in partnership with Adam Pulford to host a Vigil in Solidarity for Gay and Bisexual Men in Chechnya. Around 800 people attended the event, with just a weeks notice. The Vigil sent the message to gay and bisexual men in Chechnya that we care. It also sent the message to our political leaders that we wanted them to do everything in their power to stop the abduction, detention and torture of gay men in Chechnya. It also provided an important opportunity for LGBTI community members and allies to support each other.
Wolves are the National animal of Chechyna and are a symbol that means being free and equal. We used the pink wolf as a symbol of our support of freedom and equality for gay men in Chechnya.
 Message to gay & bisexual men in Chechnya
This message is for Gay and bisexual men in Chechnya – we want you to know how sorry we are to hear what is happening to you. Tonight we had a Vigil in Melbourne for you and about 800 people came. At the end of our Vigil we meditated to send you messages of love and solidarity. We took this picture of us meditating in the hope that somehow it would get to you – so you would know you are not alone. We are lobbying our politicians to influence your government so you can live free and equal. We want you to know that we care.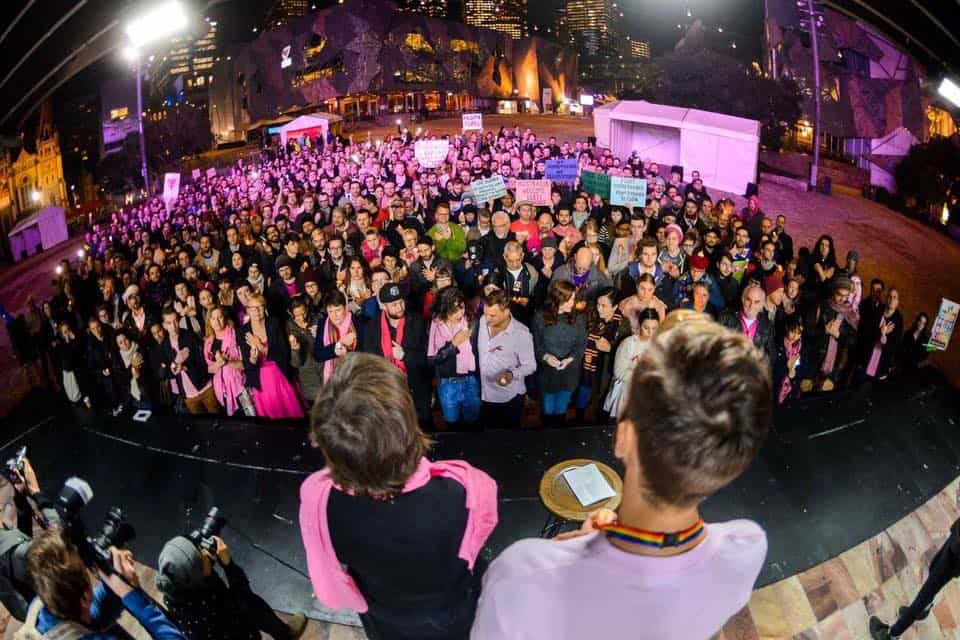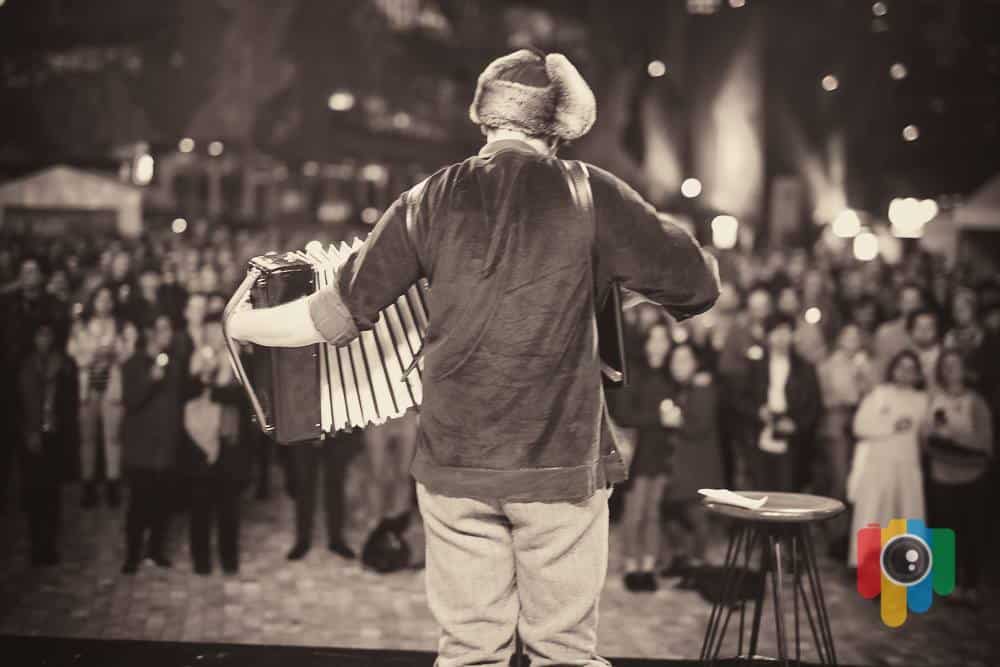 William Elm is a beautiful one man orchestra who played the accordion at the Vigil – very moving, very reflective.
William has recorded a track called One – all proceeds from the sale of this music with go to LGBTI activists in Russia.
Photo by Andy Miller.
Thank you to the photographers who attended the Vigil and shared their photographs with us.
Thank you 
Steve Anderssen
 from Steve TV for a series of 6 films from the Vigil.
https://www.youtube.com/watch?v=bLPuyl2oYLc
Special thanks
Isabelle and the good people at Federation Square – thank you for helping to make this work at such short notice.
Kye Bartel from Bespoke Soiree – who helped with event management. Kye bought in a fabulous skill set and more "rainbow magic dust" seemed to happen when she was on board. Kye also bought a fabulous man called Colin – who was a sound equipment expert who wanted to make sure we got the most out of our borrowed sound equipment. RIP Kye, we miss you
 Victorian AIDS Council who sent a swag of volunteers to help with the Vigil – awesome job.
Danielle Green Member for Yan Yean for speaking at the Vigil on behalf of Minister Martin Foley.
Janet Rice for taking a stand in Federal Parliament and for speaking at the Vigil. Your leadership is greatly appreciated.
Jack Giles for sharing your experiences of making a doco in Russia on the treatment of gay men – with Logan Mucha
Graphic designer David Sandoval Sandoval for the beautiful logo
Musician William Elm
Photographer Andy Miller
Photographer Dean Acuri
Photographer Julian Meehan
Photographer Brandon Cook
Videographer Steve Anderssen from Steve TV