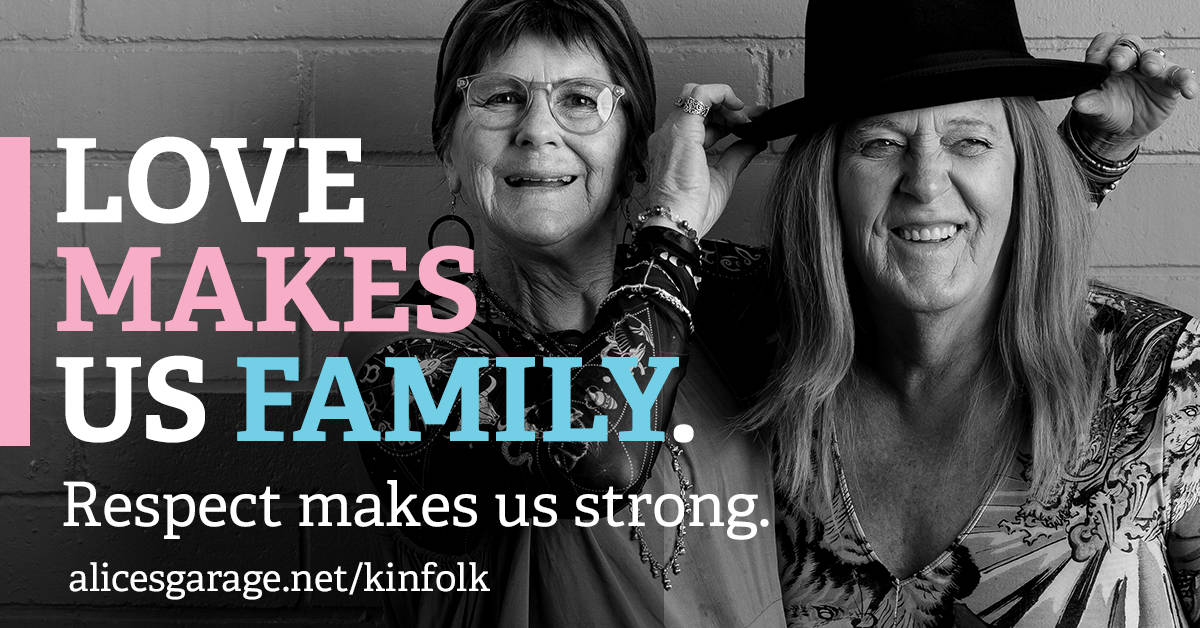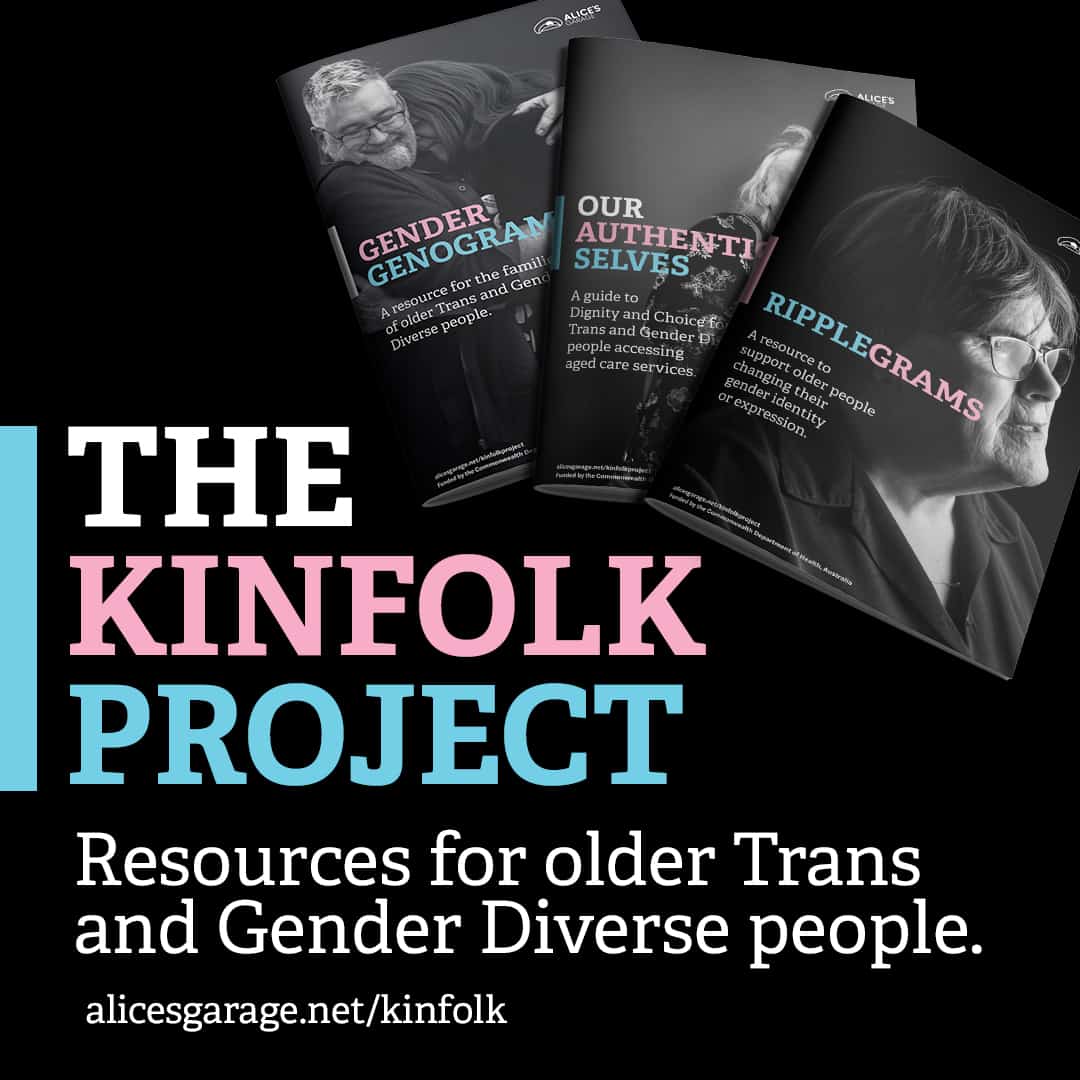 The Kinfolk project involved working with older Trans and Gender Diverse (TGD) people and service providers to improve older TGD people's choice and control over gender identity and expression. In particular, it addressed the restriction of gender expression by family members and aged care service providers.
The project was funded by the Commonwealth Department of Health in Australia and project team included: Dr Catherine Barrett, Kaye Bradshaw, Toni Paynter, Sally Conning and Kathy Mansfield. Co-leadership of the project by three older TGD people was critical to the success of the project.
A gender genogram is like a family tree – it shows a person's family relationships and also includes emotional and social relationships. They are used a lot in health services. 
Genograms include symbols – circles for females and squares for men. We expanded this traditional approach to genograms by creating a Gender Genogram.
In a Gender Genogram, gender diversity is recognised, and the focus is on the gender roles and expectations of every
f
amily member.
This process may be useful for older TGD people and their families to work through with Family Relationship Service. It could also be adapted for TGD people more broadly. Check the resource:
GenderGenogramResourceHere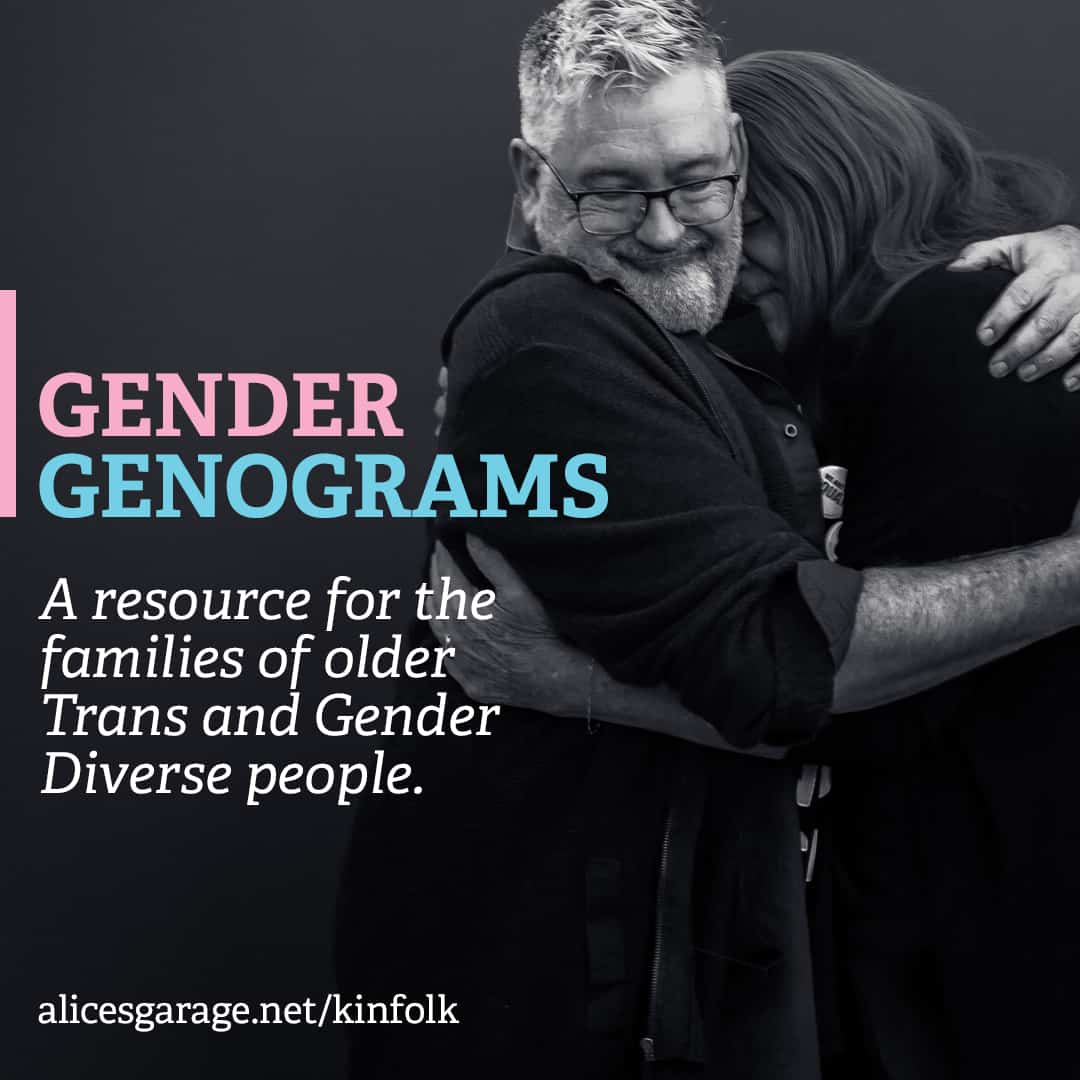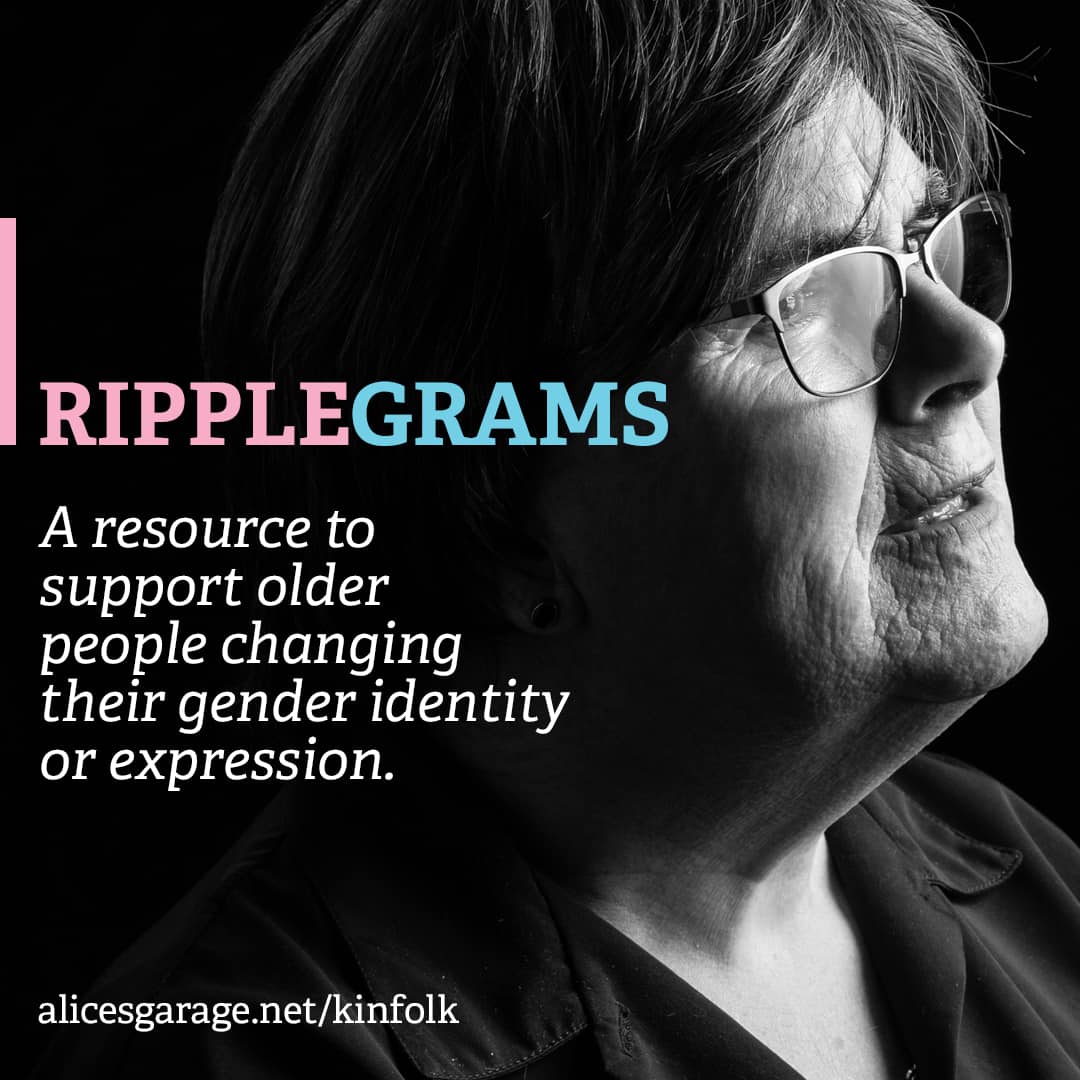 A RippleGram is a visual image and description of the intended and unintended consequences of transition or changing gender expression as an older person.
A Ripplegram may assist in planning for the consequences of transition.
We invite older TGD people and their families to read the Gender Genogram resource below and consider working through the process with a Family Relationship Service: RippleGramResourceHere
Our Authentic Selves is a set of resources for aged care service providers to promote the rights of older Trans and Gender Diverse (TGD) people. The resources outline how Standard One of the Aged Care Standards applies to the lives of older TGD people and includes:
The Kinfolk Report outlines the project, provides a summary of the interviews and the survey with older TGD people and families and presents an overview of the activities undertaken and resources developed. To download a copy, click here: The Kinfolk Report
There are a number of services out there to help older TGD people and their families. We have listed some there:
Family relationship services: in every state and territory there are family relationships services that can assist you to complete a Gender Genogram. These include Relationships Australia, see: relationships.org.au
Qlife: provides anonymous and free LGBTI peer support and referral for people in Australia wanting to talk about sexuality, identity, gender, bodies, feelings or relationships. Phone: 1800 184 527 (3pm – midnight) or website: https://qlife.org.au/
Immediate support: if you need to talk to someone immediately and you are not sure what your options are 1800RESPECT is a website and 24 hour support service that offers counselling and information about support services.
We want to thank the media who covered our project, your work helps to spread the word. Thanks to: SBS News (Evan Young): Australians transitioning gender in later life will receive more support andOY 94.9 Saturday Magazine.
Thankyou also to the service providers who worked with us to develop these resources. Your support is greatly valued: Henry Von Doussa, Social Researcher The Bouverie Centre; Kathleen Lambeth, Elder Mediator Relationships Australia Victoria; Kristie Hunter, Project Support Officer Relationships Australia Victoria; Heidi Buhner, Quality Support Officer Better Place Australia; Samantha Apley, Family Consultant Better Place Australia; MaryClare Machen, Drummond St Services; Leanne Renfree, Senior Project Manager Drummond St Services; Meredith Butler, Outreach, Switchboard Victoria; Sally Goldner, TransGender Victoria; Ren Grayson, Gender Diverse Health Project Lead, Thorne Harbour Health, Cassie Browne, Elder Rights Advocacy; Loren Smith-Loncaric, Vincent Care; Dr Ruth McNair, Northside Clinic; Josh Darvill, Vincent Care; Tracey Hobson, Lifeview; Amanda Tierney, Daylesford Hospital; Dominique Horne, North West Aged Care Assessment Service; Sally Marshall, Box Hill Blue Cross; Rosemarie Draper, Bolton Clarke; Jodie Brown, Lifeview; Wendy Neivandt, City of Melbourne.
Thankyou to photographer Julian Meehan for the beautiful photographs, Chris Franklin, from Franklin Image, for the fabulous film and to Grant Maynard, from This is Maynard, for the powerful graphic design.
If you would like more information, please contact project coordinator Dr Catherine Barrett on 0429582237 or email: director@celebrateageing.com