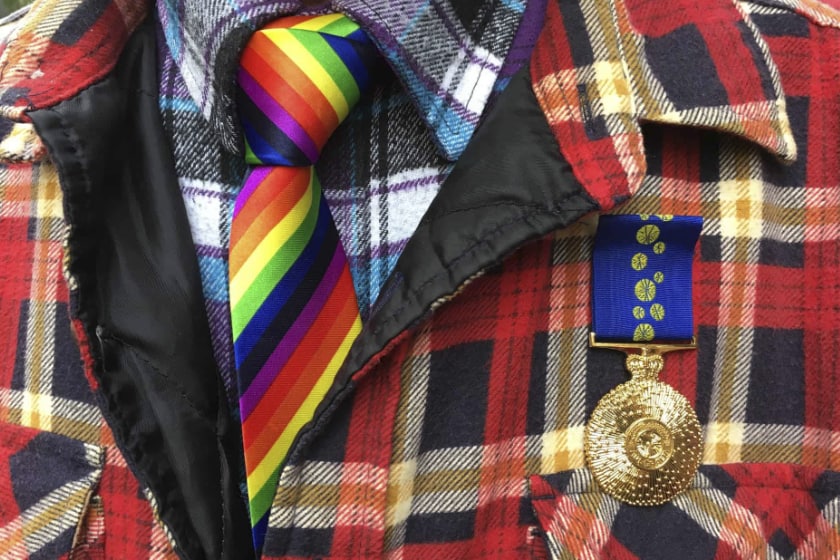 Older LGBTI people have experienced tough times and found their strong. We want to learn what strong means to them, and discover how they found it. The Finding Strong campaign takes an appreciative inquiry approach to celebrating these strengths and sharing them – particularly people who are doing it tough.
Finding Strong includes messages of hope from older LGBTI people and community leaders – to help us through tough times. It also includes reflections on leadership and wellbeing. Finding our strong does not absolve LGBTIQphobes of responsibility for the harm they cause. Rather it says – we want to live our best possible lives now. 
The Queer Strong Campaign was undertaken in collaboration with the Kindness Pandemic and Beyond Blue and with support from the Department of Premier and Cabinet Victoria. The Campaign involved inviting LGBTIQ people of all ages to share their stories about what Queer Strong means to them and how they found their strong. Their stories were shared to the Kindness Pandemic Facebook group and got tens of thousands of likes and hundreds of shares. To visit the Queer Strong webpage click the link here 
Queer Leadership & Wellbeing
In November 2019, 30 LGBTIQ community leaders graduated from the Leadership Victoria's LGBTIQ course. As part of the Leadership Program, Alice's Garage facilitated an interactive workshop on Qwellbeing – Queer Leadership Wellbeing. The essence of Qwellbeing was summarised in the workshop and is presented here as a Dictum, or our truth, or principles for taking care of ourselves. The principles will evolve over time – and we hope these serve as a starting point. A very big thankyou to artist Kenton Penley Miller for the beautiful images depicting the principles.
Dictum for Queer Leadership & Wellbeing
When I understand my Queerness as a SuperPower, I have the capacity to achieve change and work in ways that enable me to thrive. Queerness as a SuperPower involves the following:
1. Valuing myself
When I truly valued myself, it doesn't hurt so much when my work and those I love are undervalued or undermined by others. Because I value myself, I will tell people what I need, even if I get a knock back. My capacity to withstand critique is strengthened when I value my own work and recognise that I am a pioneer.
2. Recognising trauma
I recognise that many LGBTIQ people have lived with trauma and that there are legacies of this history in so many of us. I acknowledge the everyday microaggressions and the lateral violence. In this context, I understand that my wellbeing and my needs are critical and a sign of good leadership
3. Clarifying boundaries
There is so much work to be done, so I have to pick my battles. If I am the only LGBTIQ person in my village, I will look for allies and call for help. I know that help is just a phone call away
4. Channelling outrage
I understand that I am expected to respond to LGBTIQ oppression and discrimination with politeness towards the oppressors and perpetrators. This is even more difficult when my work (or self) is contested. I will acknowledge the hurt and frustration and channel my outrage strategically so that my voice is heard
5. Being connected
I understand that oppression works by dividing people. I also know that capitalism, colonialism and patriarchy won't defeat us if we are united. We are competing for scarce resources, but I know we are more powerful when we work together
6. Acknowledging differences
We are not the same as the broader community and we are not the same as each other. We are all different; but this does not mean we are less. We have a shared humanity. I know that valuing differences is a powerful way to lead
7. Understanding vulnerability as strength
Acknowledging the hurt and pain and failures and difficulties is not a sign of weakness; it is my strength. All humans experience these emotions and difficulties; acknowledging them, talking about them and sharing them can help make me strong.
Our Bodies, Ourselves – Detox workshop
Alice's Garage was proud to partner with Rainbow Families to present a Detox workshop at the Better Together, Equality Project Conference in 2018. The workshop invited LGBTI community members (and allies) to reclaim their Pride in who we are. It honoured the body as a site for building strength and Pride. The workshop included a body percussion harmony with percussionist Peter Vadiveloo. A short iMovie will be produced to share images and audio from the workshop – coming soon, with photographs will be taken by Tess Flynn.
Max Primmer lives in Daylesford and shares his message to LGBTI people living in rural and regional areas. Max believes that everyone has a niche or special place where they belong.
In this film Sally Conning shares her message to LGBTIQ community members about reaching out in tough times.
This beautiful film is the first in our series for Finding Strong – it show cases older LGBTI people and Community leaders sharing their stories about tough times in the context of the Marriage Equality Postal Vote. The key message here is: "We Stand With You".
In October 2017, a group of older LGBTI Victorians were invited to accompany Premier Daniel Andrews as he posted his Marriage Equality Postal Vote. Alice's Garage helped get the word out to older LGBTI people and was there to film the event. This film wasn't produced for Finding Strong – but so many LGBTI folk fed back on social media that they found it uplifting – so we decided to include it here.
If you would like more information or want to share your story please contact Finding Strong Coordinator using the details below:
Dr Catherine Barrett
Phone: 0429 582 237
Email: director@celebrateageing.com